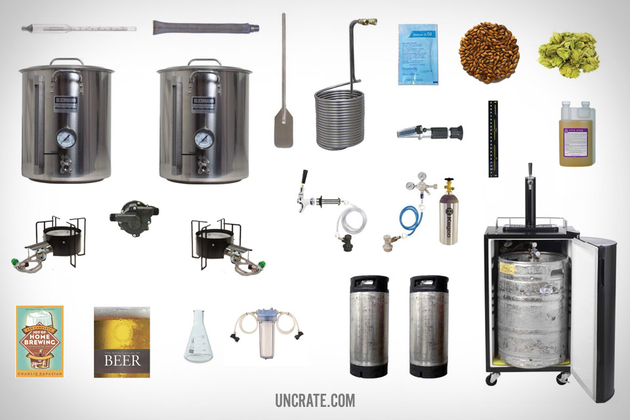 Benjamin Franklin once said that beer is proof that God loves us and wants us to be happy. Word, Ben. Word.
Hydrometer ($7). Hops Screen ($17). Blichmann Brew Pot ($394). Stainless Steel Mash Paddle ($26). Stainless Wort Chiller ($49). Safale Yeast ($4). Honey Malt ($2). Cascade Hops ($4). Refractometer ($30). Fermometer ($2). Star San Sanitizer ($17). Bayou Classic High Pressure Burner ($91). March High Temperature Pump ($147). Kegerator Conversion Kit ($124). The Joy of Homebrewing Book ($10). World Atlas of Beer ($18). Erlenmeyer Flask ($29). Beer Filtration Kit ($45). Reconditioned Keg ($42). Kegerator ($519).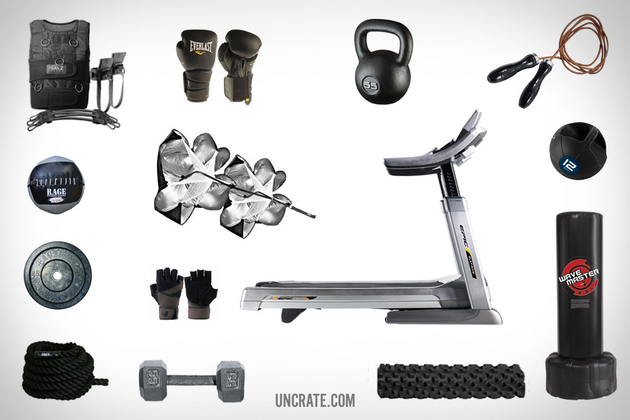 It's that time of year again. Time to cut back on the cookies and beer, and chisel your way to a better you.
SKLZ Chrome Hopz Pro Vest ($99). Everlast Protex2 Training Gloves ($45). 55lb Kettlebell ($109). Leather Jump Rope ($15). RAGE 14lb Medicine Ball ($99). SKLS Chrome Speed Chute ($59). Epic A42T Treadmill ($1899). SKLZ Dual Grip 12lb Medicine Ball ($59). RAGE 45lb Olympic Bumper Plate ($75). Harbinger Wrist Wrap Glove ($35). Century XXL Wavemaster ($329). GoFit Combat Rope ($160). Hex Dumbell Set ($999). RumbleRoller Massage Roller ($75).
This edition of Essentials is sponsored by Dick's Sporting Goods.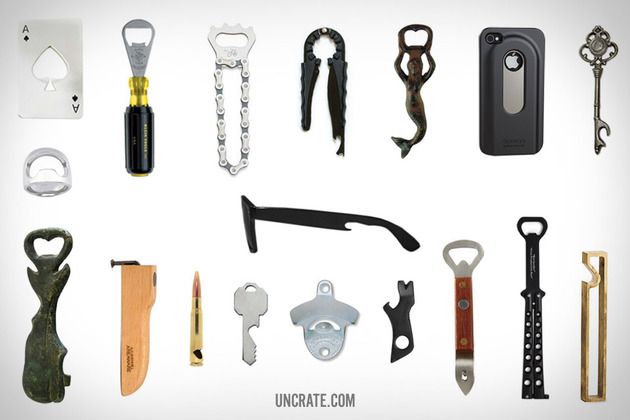 Because there's never one around when you need it.
Kikkerland Casino Opener ($11). Klein Bottle Opener Tool ($10). Recycled Bike Chain Opener ($14). 3 in 1 Beverage Opener ($11). Antique Iron Mermaid Opener ($9). Opena iPhone Case Bottle Opener ($40). Skeleton Key Opener ($10). Bottle Opener Ring ($2). Solid Brass 1900's Whale Opener ($TBA). Brendan Ravenhill Magnetic Opener ($14). 50 Caliber Bullet Opener ($10). Jackhawk Bottle Opening Sunglasses ($145). Key Bottle Opener ($5). Wall Mounted Opener ($5). Gerber Keychain Opener and Multi-tool ($6). Tablecraft Magnetic Opener ($6). Butterfly Bottle Opener ($10). Brass Bottle Opener ($75).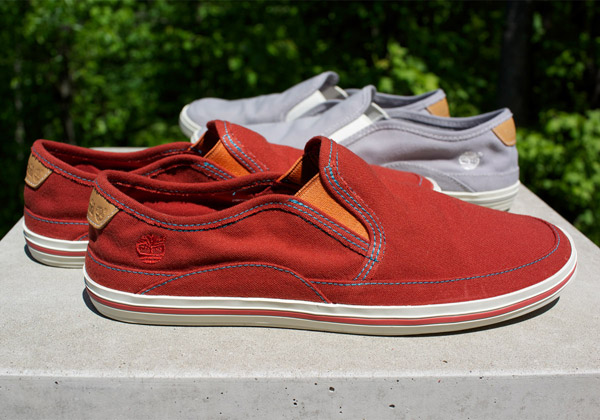 Featured Gear
Prepare for casual summer days with Timberland's® Earthkeepers® Casco Bay Canvas Shoe. These lightweight, laid-back kicks will add a stylish pop of color to any no-sock, warm-weather look. Choose either a fun slip-on style or the one-eye moccasin style, with a choice of four colorways ranging from blueberry to poppy. See the entire collection here.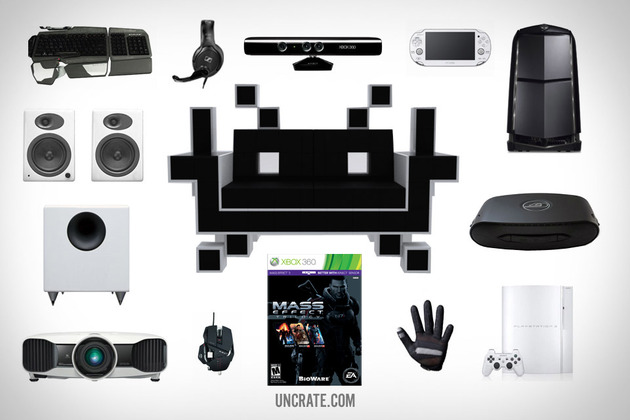 Throw out your home office and install the necessities to do some real work.
Mass Effect Trilogy ($59). S.T.R.I.K.E.7 Gaming Keyboard ($259). Sennheiser PC 360 Pro Headset ($180). Kinect Sensor ($99). Playstation Vita ($249). Alienware Aurora R4 Gaming Desktop ($2222). Audioengine Powered Speakers ($399). Space Invader Couch ($5000). G155 Mobile Gaming System ($237). Audioengine Subwoofer ($349). Epson 3D Projector ($2400). R.A.T.7 Gaming Mouse ($99). PEREGRINE Wearable Interface ($149). Japanese White Edition PS3 Console ($500-$1000).
This edition of Essentials is sponsored by EA's Mass Effect Trilogy.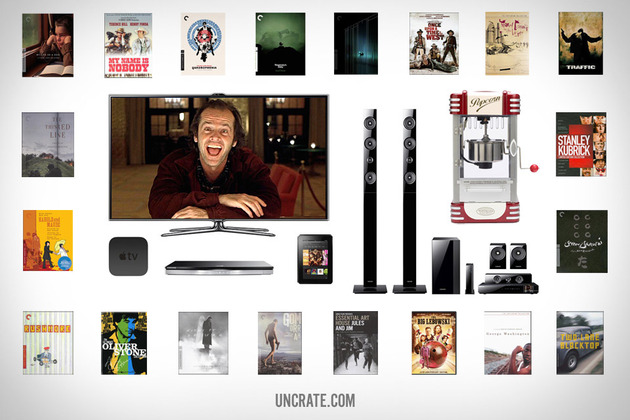 It's time to upgrade the spare bedroom. It's time to go into film seclusion for the winter.
My Life as a Dog ($18). My Name is Nobody ($15). Quadrophenia ($18). Rosemary's Baby ($18). The Game ($18). Once Upon a Time in the West ($20). Fear and Loathing in Los Vegas ($18). Traffic ($18). The Thin Red Line ($18). Harold and Maude ($18). Samsung 55" 3D LED TV ($1999). Apple TV ($99). Samsung 3D/WiFi Blu-Ray Player ($129). Kindle Fire HD ($249). Samsung 1300W 3D Home Theater System ($749). Kettle Popcorn Maker ($79). Stanley Kubrick Collection ($130). Seven Samurai ($21). Rushmore ($18). Oliver Stone Collection ($40). Wings of Desire ($21). Gomorrah ($21). Jules and Jim ($9). The Big Lebowski ($15). George Washington ($15). Two Lane Blacktop ($21).
This edition of Essentials is sponsored by Best Buy. What will your gift do?
Cadillac ATS (starting at $33,095). Verizon Jetpack Mobile Hotspot ($49). Persol Steve McQueen Edition Folding Sunglasses ($288). Pentax Binoculars ($299). Jawbone ERA ($129). Dual USB Charger ($9). Custom Engraved Moleskine Covers ($59). Blinder Laser Jammer ($399). Aervoe LED Safety Flares ($25). SteriPen Water Purifier ($119). Escort Radar Detector ($429). 3M Palm Sized Roku Projector ($299). iPad Mini ($329). Barneys New York Driving Glove ($195). Solar Joos Charger ($165). Canon EOS 18mp Camera ($799). Insight Tactical Flashlight ($149). Whistler 400w Inverter ($30). USA's Best Trips e-Book (FREE).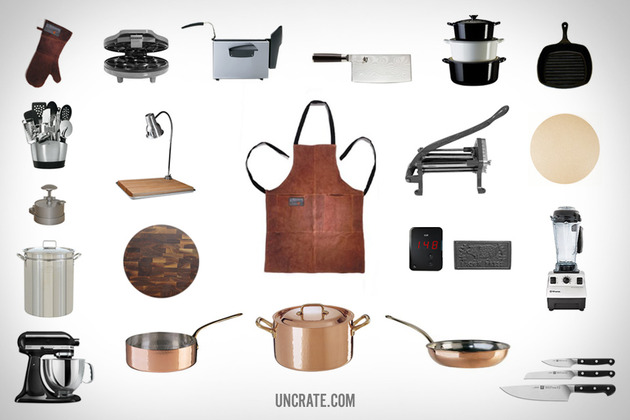 There's such a thing as too many cooks in the kitchen. But you can never have enough gear in the kitchen.
Outset Leather Grill Mitt ($12). Bella Cucina Donut Maker ($24). Presto Deep-Fryer ($59). Shun 7" Chef's Knife ($229). Lodge Logic Cast Iron Skillet ($18). OXO Kitchen Tools ($99). Carving Station w Heat Lamp ($239). Outset Leather Apron ($49). Weston French Fry Cutter ($60). 16" Ceramic Pizza Stone ($23). Weston Burger Press ($20). Bayou Classic 62 Qt. Stockpot ($115). John Boos Walnut Chopping Block ($249). iGrill BBQ Thermometer ($79). Bacon Press ($11). Vitamix TurboBlend($448). Kitchenaid Artisan Mixer ($349). Ruffoni Historia 5pc Copper Cookware Set ($819). J.A. Henckels 21pc Knife Set ($999).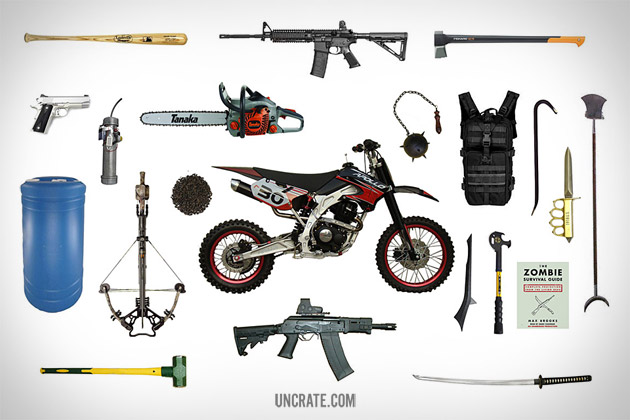 Preparation, people. Preparation. And remember... the best defense is a good offense.
Louisville Slugger ($29). M4 Carbine ($1799). Fiskars Splitting Axe ($39). Kimber 1911 ($1049). Handmade Explosive ($49). Tanaka 20" Chainsaw ($650). Medival Flail/Mace ($33). Maxpedition Falcon II Pack ($127). Tekton 18" Wrecking Bar ($12). WWI Trench Knife ($24). Wushu Monks Spade ($95). Sulfuric Acid ($275). TenPoint Carbon Crossbow ($2070). Homemade Gunpowder ($15). Apollo 125cc Dirt Bike ($899). Gunstock War Club ($28). Truckers Friend Tool ($49). Zombie Survival Guide ($10). 8lb Unbreakable Sledge Hammer ($76). Saiga 12 Tactical Series ($1500). Japanese Katana Sword ($825).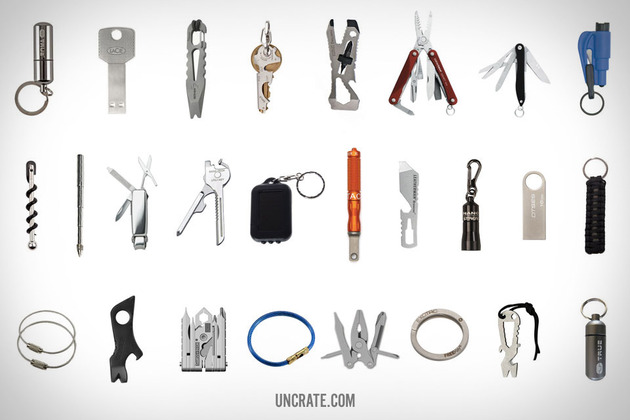 Because your keychain is not very useful right now. (You can click the image above now, 382 people who emailed us about making these types of posts clickable.)
True Utility Keyring Lighter ($16). LaCie 16G USB Key ($26). Boker Plus Vox Access Tool ($27). True Utility Keytool ($7). PocketToolX Piranha Pocket Tool ($23). Leatherman Squirt ($25). Leatherman Style ($15). ResQMe Car Escape Tool ($11). True Utility Stainless Corkscrew ($10). Telescopic Pen ($7). Swiss+Tech Nail Clipper, LED Light, and Knife Tool ($9). Swiss+Tech Utilikey ($13). Solar Powered LED Flashlight ($2). nanoSTRIKER Ferrocerium Fire Starter ($24). PocketToolX Brewser ($13). Streamlight Nano LED Flashlight ($6). Kingston 16G Data Traveler ($10). ReadyGear Paracord Key Chain ($9). Vigilant Aircraft Cable ($7). Gerber Shard Keychain Tool ($6). Swiss+Tech 19-in-1 Multitool ($7). Lucky Line Key Ring ($3). IDL Multi-Tool ($10). FREEKey Easy Open Key Ring ($8). Schrade Pry Tool and Seatbelt Cutter ($24). True Utility Cash Stash ($11).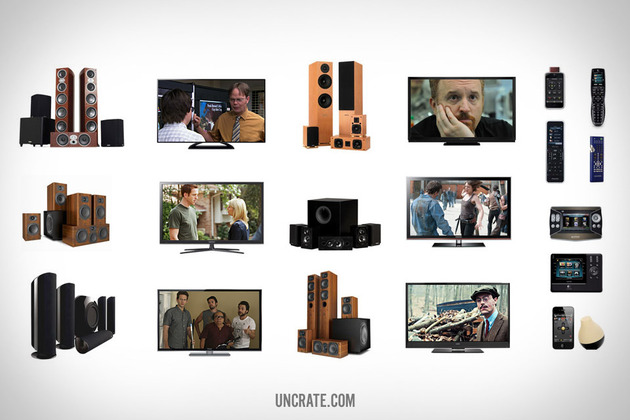 If you're not ready to step up to a projector and a wall-sized screen, here are some options to make your fall TV watching a little more awesome.
Polk Audio 3.1 Cherry ($999). Sony LED 54" TV ($2199). Fluance Home Theater ($374). Pioneer Elite Pro 60" ($4500). I5 Remote System ($59). Logitech Harmony 900($349). Philips Prestigo ($99). Clicker Bottle Opening Remote ($25). Aperion Intimus 5B ($999). Samsung 60" Plasma SmarTV ($1699). Crutchfield Energy ($399). Samsumng 46" LCD TV ($877). URC MX-6000 Remote ($1500). KEF KHT5005.2 Surround System ($1500). Panasonic Viera 55" 3D Plasma ($2499). Aperion Intimus 4T ($1349). VIZIO 55" Theater 3D LCD TV ($1149). Logitech Harmony 1100 ($349). Peel Univsersal iRemote System ($99).
This edition of Essentials is sponsored by eBay. From the new to the hard to find, when it's on your mind, it's on eBay.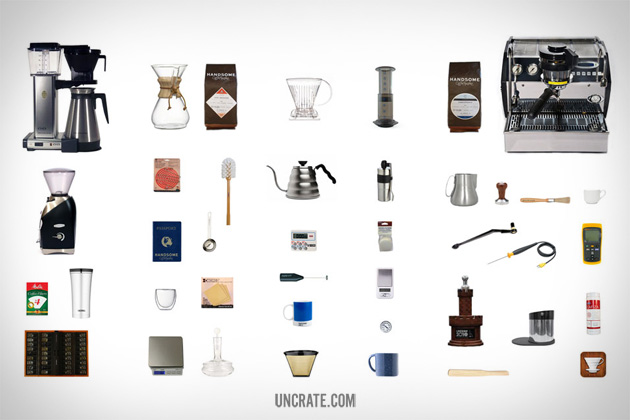 The guys at Handsome Coffee in LA helped us put together the best coffee gear and their favorite preparation methods. Chris is a world class roaster and Michael won the 2010 World Barista Championships (first American to ever do so). Behold their brewing knowledge.
Technivorm Coffee Brewer ($299). Baratza Virtuoso Preciso Coffee Grinder ($289). Melitta Filters ($5). Thermos Sipp Vacuum Tumbler ($25). Le nez du Cafe Tasting Kit ($450).
Chemex 8 Cup Classic ($39). Handsome - Don Medaro Coffee ($21). Chemex Stove-Top Grid ($9). Trip to Orgin with Handsome Coffee Head Roaster ($12,000). Stainless Steel Coffee Scoop ($5). Chemex Brush ($14). Bodum Pavina Cup ($24). Chemex Filters ($9). Digital Scale ($35). Chemex Carafe ($70).
Clever Coffee Dripper ($18). Hario Buono Drip Kettle ($48). Digital Timer ($13). Aerolatte Portable Frother ($19). Pantone Color Mug ($15). Medelco Permanent Filter ($5).
AeroPress ($25). Porlex Hand Burr Grinder ($70). AeroPress Filters ($4). Travel Digital Scale ($11). Taylor Pocket Thermometer ($4). GSI Mug ($6).
Handsome - Comeuppance Espresso ($22). La Marzocco GS/3 Espresso Machine ($6185). Espro Milk Frothing Pitcher ($25). Rosewood Tamper ($25). Espresso Grinder Brush ($5). BIA Espresso Cup Set ($16). Pallo Espresso Machine Brush ($7). Fluke Temperature Probe ($80). Fluke Dual Input Thermometer ($265). Coffee Training with 2010 World Barista Champion ($2500). Stainless Steel Knock Box ($40). Cafiza Cleaning Powder ($10). Yama Bamboo Stir Stick ($4). Bloom Coffee Timer iPhone App ($3).