No matter what size, what brand, what bag, or what skill level you possess, you'll always get the shot with one of these captivating cameras.
ikan Trekker ($149). Canon 5D Mark III ($3499). Olympus OM-D ($1299). Sony a900 ($3499). Lowepro Fastpack ($169). Nikon D800 ($2999). InCase Pouch ($19). Domke Waxed Shoulder Bag ($105). Sony NEX 5N ($545). Nikon 1 V1 ($899). Canon EOS M ($799). Olympus E-P2 ($799). InCase Ari Sling ($199). Pentax K5 ($1099). Nikon Coolpix P310 ($299). PortaBrace HDSLR Messenger ($209). Olympus VR-330 ($199). Sony Cybershot TX20 ($329). Pentax Q ($749). Pelican Micro ($19). Canon Powershot 530 HS ($279). Ona Camera & Laptop Bag ($289). ikan Memory Pouch ($10). Pentax Optio RZ18 ($249).
This edition of Essentials is sponsored by eBay. From the new to the hard to find, when it's on your mind, it's on eBay.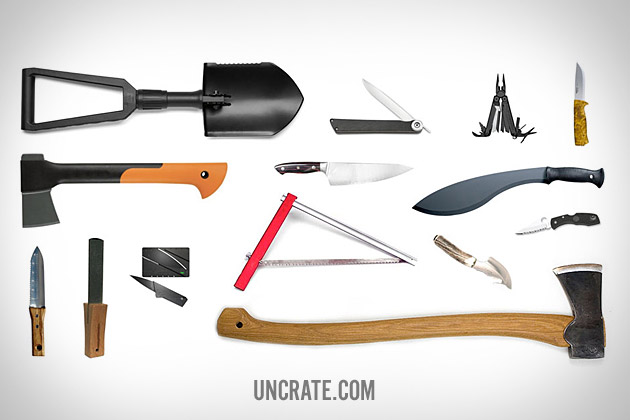 Slice and dice your way through any situation with this roundup of the best blades.
Gerber Folding Shovel ($42). Shun Higo Nokami Personal Folding Stainless-Steel Steak Knife ($95). Leatherman Wave ($68). Helle Eggen Knive ($84). Fiskars Hatchet ($23). Shun Reserve Chef's Knife ($299). Kurki Machette ($24). Hori Hori Garden Knife ($21). AXE Sharpening Diamond ($72). Ian Sinclair Credit Card Knife ($14). Sven Saw ($35). Ruko Skinning Knife ($70). Spyderco Combo Edge Folding Knife ($49-99). Gransfors Scandinavian Forest Axe ($129).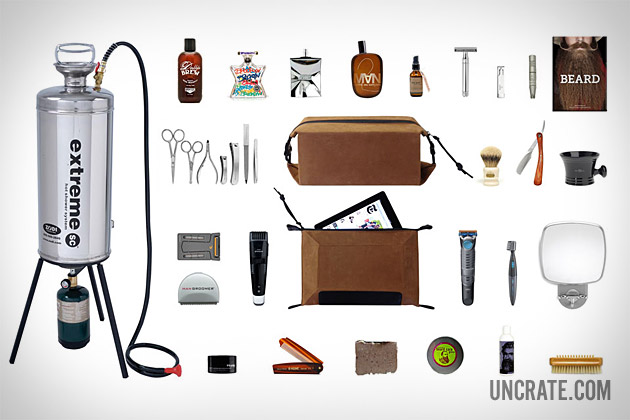 It's time for a good prune. Get to it with this grooming gold mine.
ZODI Extreme Hot Shower ($177). Duffy's Beer Shampoo ($16). Brooklyn Cologne ($235). Bang by Marc Jacobs ($26). Comme des Garcons #2 ($95). Big Sur Room Spray ($20). Dreadnought Razor ($70). Extra Flat Malteser Nail Clippers ($57). Groom Mate Nose Trimmer ($19). Beard by Matthew Rainwaters ($11). Art of Shaving Tool Kit ($121). KILLSPENCER Transforming Dopp/Folio ($149-$189). Simpson Badger Hair Shaving Brush ($179). FEATHER Japanese Straight Razor ($250). Edwin Jagger Shaving Bowl ($35). Merax Credit Card Razor & Mirror ($6). Mangroomer Back Hair Shaver ($48). Philips Norelco Vaccum Trimmer ($47). Braun Cruzr Body Shaver ($55). Braun Detail Shaver ($12). Fog Free Shower Mirror ($25). Kyoku Shave Creme ($19). Kent Folding Comb ($10). Dead Sea Soap ($10). Moustache Wax & Beard Gloss ($18). Beardsley Beard Conditioner ($12). Kent Beech Wood Nail Brush ($21).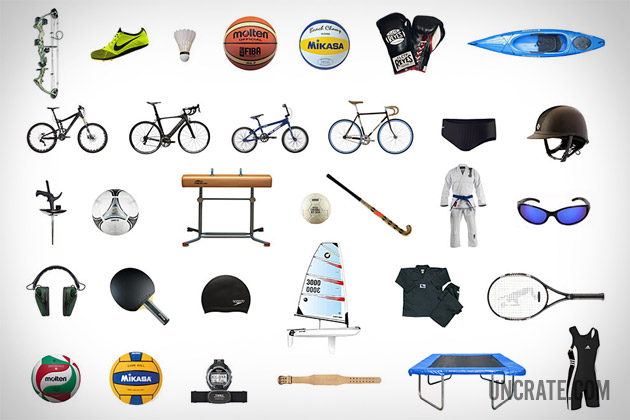 Tape delay or not, get ready for your 2016 debut in Rio with this collection of gold-worthy gear.
Bowtech Compound Bow ($323). Nike FlyKnit Track Spike ($TBD). Yonex Shuttlecock ($14). Official FIBA Olympic Leather Basketball ($78). Mikasa Official FIVB Beach Volleyball ($49). Cleto Reyes Professional Fight Gloves ($159). Wilderness Systems Kayak ($825). Diamondback Pro All Mountain Bike ($3200). Litespeed C1/Shimano Dura-Ace Race Bike ($5600). SE PK Ripper BMX Race Bike ($429). Tommaso Augusta Track Bike ($479). Speedo Aquablade Brief ($40). Charles Owen Equestrian Helmet ($288). BMI Vniti FIE-Approved Foil ($120). ADIDAS Official Final Match Ball ($149). Spalding Tapahide Pommel Horse ($1135). Tachikara Handball ($36). Grays Gx9000 Turbo Torque Stick ($289). Hayabusa Pro Jiu Jitsu Gi ($229). Floating Polarized Sunglasses ($39). Caldwell Electronic Muffs ($29). Killerspin Premium Table Tennis Paddle ($159). Speedo Silicone Swim Cap ($9). Bic O'pen Sailboat ($2999). Taekwondo Dobok ($19). Becker Deltacore Racquet ($273). Molten Competition Indoor Volleyball ($49). Mikasa Water Polo Game Ball ($35). Timex Triathlon Watch with Heart Rate & GPS ($132). Markwort Weightlifting Belt ($30). JumpSport 10' x 17' Trampoline ($2099). Adidas Response Wrestling Singlet ($49).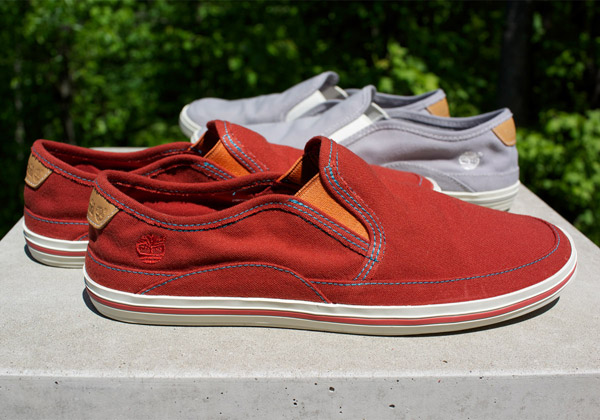 Featured Gear
Prepare for casual summer days with Timberland's® Earthkeepers® Casco Bay Canvas Shoe. These lightweight, laid-back kicks will add a stylish pop of color to any no-sock, warm-weather look. Choose either a fun slip-on style or the one-eye moccasin style, with a choice of four colorways ranging from blueberry to poppy. See the entire collection here.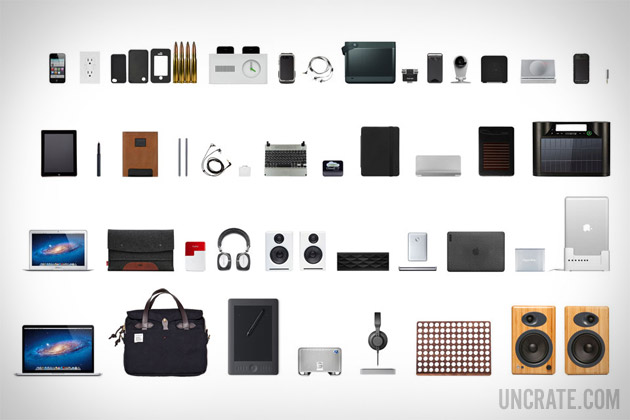 You live and breathe everything the Cupertino Mothership releases, and now it's time to give your much-loved devices some more love. Behold: awesome accessories for your electronic family members.
iPhone 4s ($199). USB Wall Outlet ($25). .50 Caliber Bulletproof iPhone Case ($650). Day Maker iPhone Charger ($180). Magellan Waterproof Case ($130). Bose Mobile Headset ($130). Bang & Olufsen Beolit Wireless Speaker ($799). TASCAM Audio Recorder ($53). Hex Leather Card & iPhone Case ($35). DropCam HD Wireless Video Camera ($150). Nuforce Portable Speaker ($119). Geneva Compact Speaker ($221). Morphie Ruggedized Battery Pack ($129). Smart Dot Laser Pointer ($TBD). Apple iPad ($535). Byzero Digital iPad Pen ($159). Kill Spencer Parcel Sleeve ($230). Blue Lounge Protective Pads ($12). Klipsch Noise-Cancelling Headphones ($78). 5 in 1 Card Reader ($3). Brydge iPad Case & Keyboard ($160). Cloud FTP ($130). InCase Book Jacket ($69). Magnus iPad Stand ($39). Kudo Solar Case ($129). Eton Rukus Solar Powered Portable Speaker ($150). MacBook Air ($1139). Merino Wool iPad Case ($60). PlugBug ($34). Bowers & Wilkins Headphones ($289). Audioengine Desktop Speakers ($199). Jawbone Jambox ($180). G-Drive 1TB Drive ($139). Apple Superdrive ($79). InCase Hardshell Case ($39). Hyperjuice External Battery ($349). Henge Macbook Air Dock ($65). 15" Macbook with Retina Display ($2794). Filson + Apolis Philanthropist Briefcase ($369). Wacom Tablet ($329). G-Drive Thunderbolt 4TB Hard Drive ($632). AIAIAI Studio Headphones ($249). Leap Motion Controller ($75). AirSlab Walnut Cooling Stand ($49). Audioengine 50w Powered Speakers ($469).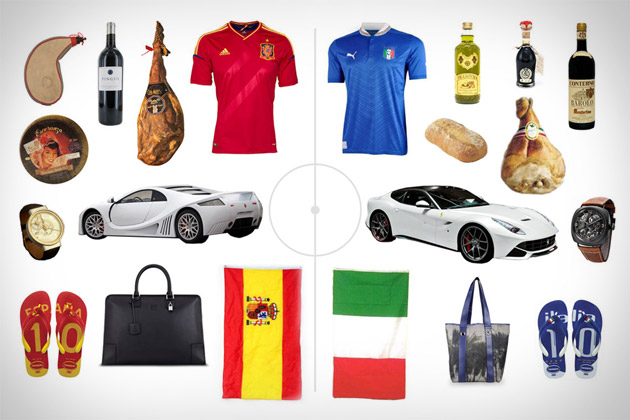 After one big upset (condolences to our Germany friends), it's time to get ready for the finals. Here's everything you need.
España
Spain Home Jersey ($65). Goatskin Bota Bag ($11). Pingus ($800). Whole Bone-in Ham ($2022). Manchego Cheese ($99). Pita Molinos Watch ($TBA). GTA Spano Supercar ($TBA). Loewe Amazona Weekender ($TBA). Havaianas Team Sandals ($14). Spanish National Flag ($4).
Italia
Italy Home Jersey ($72). Frantoia Barbera Olive Oil ($247). 75 yr Reggio Balsamic Vinegar ($322). Prosciutto Di Parma ($504). The Italian Baker ($21). Panerai Tourbillon Watch ($TBA). Ferrari f12 Berlinetta ($TBA). Valentino Tote Bag ($1047). Havaianas Team Sandals ($14). Italian National Flag ($4).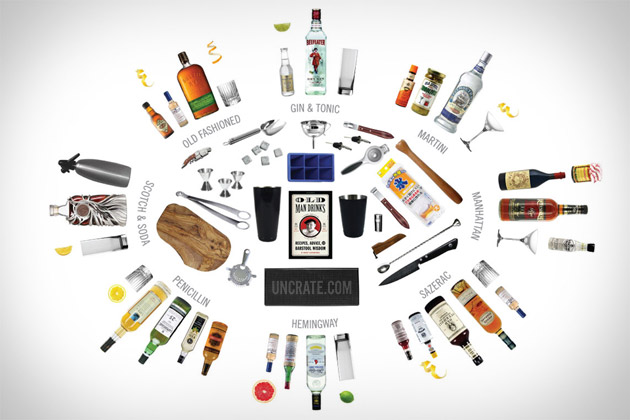 All the tools and ingredients needed to make classic drinks and longterm friends. Put together with the help by bartenders at Death & Co. and Demi Monde. Click on through to the other side and click on the drink names for recipes.
Scotch & Soda: Highland Park 50yr Scotch ($15,999). Soda Siphon ($49). Lemon ($1). Stolzle Collins Glass ($7). Old Fashioned: Bitter Truth Orange Bitters ($13). Simple Syrup ($32). Bulleit Rye Whiskey ($35). Lemon ($1). Orange ($1). Baccarat Crystal Tumbler ($105). Gin & Tonic: Fever Tree Tonic Water ($2). Beefeater Gin ($20). Lime ($1). Stolzle Collins Glass ($7). Martini: Angostura Orange Bitters ($12). Tomolives ($5). Plymouth Gin ($27). Riedel Vinum XL Martini Glass ($30). Lemon ($1). Manhattan: Rittenhouse 100 Proof Rye ($21). Carpano Antica Vermouth ($30). Luxardo Brandied Maraschino Cherries ($16). Fee Brothers Bitters ($12). Riedel Vinum XL Martini Glass ($30). Sazerac: Pierre Ferrand Cognac ($39). Old Overholt Straight Rye Whiskey ($15). Simple Syrup ($32). Angostura Aromatic Bitters ($23). Peychauds Bitters ($11). Lemon ($1). Baccarat Crystal Tumbler ($105). Hemingway: Flor De Caña Rum ($15). Luxardo Maraschino Liqueur ($27). Simple Syrup ($32). Lime ($1). Grapefruit Juice ($3). Stolzle Collins Glass ($7). Penicillin: Compass Box Asyla Scotch Whiskey ($45). Sebastiano's Honey Syrup ($9). 1883 Ginger Syrup ($17). Laphroaig 18yr Islay Single Malt Scotch Whiskey ($80). Baccarat Crystal Tumbler ($105).
Old Man Drinks ($10). Tovolo King Cube Ice Tray ($7). Amco Funnel ($13). Victorinox Channel Knife ($25). Metal Pourers ($8). Lemon/Lime Juicer ($39). Black Powder Coated 16oz Shaker ($7). Lotus-Monarch Lighter ($89). Victorinox Zester ($21). Spherical Ball Ice Tray ($5). Wooden Muddler ($8). Brendan Ravenhill Bottle Opener ($20). Uber Bar Stirring Spoon ($20). Kyocera Kyotop Damascus Pakka Knife ($134). Shaker Mat ($3). Hawthorne Strainer ($6). Olive Wood Chopping Board ($45). Stainless Steel Tongs ($8). Stainless Steel Jigger Set ($4). Black Powder Coated 28oz Shaker ($8). Sipping Stones ($15). Rosle Ice Scoop ($19). Laguiole Corkscrew ($40).
Everything you need to become the next Scorsese (or Devour alum), all stuffed conveniently into one pack.
MacBook Air ($1,249). Rode Shock Mount ($50). Zoom 8-Piece Recorder Bundle ($330).Sennheiser ME66, Sennheiser K6 Powering Module and Mic Windscreen Bundle ($500).GLS Audio Mic Cable Patch Cords ($13). Ikelite Underwater Camera Housing ($1,600).Sennheiser Windsock ($230). Shure High-Definition MicroDriver Earphone ($430).Duracell Procell AA Batteries ($10). Sennheiser Wireless Lavalier Microphone System($630). Sachtler Telescopic Tripod ($1,944). Pelican Camera Case ($202). Zeiss 85mm Lens ($1,283). Zeiss 35mm Manual Focus Standard Lens ($1,117). Canon EOS 5D Mark III ($3,800). Zeiss 50mm Lens ($725). Zeiss Lens Set ($9,200). Canon Battery Pack ($60).Canon Battery Charger ($56). SanDisk Extreme Compact Flash Card ($60). Neutral Density Filter ($149). The Schiebel Camcopter S-100 ($TBD). BirnsGear Double Handle Shoulder Support ($495). Transit Issue Camera Strap ($98). Konova K Skate Dolly ($131).Chrosziel Mattebox With Varilock Kit ($4,439). Chrosziel 98mm Flexi-Ring ($94). Diva Lite Light Kit With Flight Case ($2,575). G-Technology Portable External Hard Drive($148). SmallHDCamera-Top Monitor ($TBD). Konova Slider ($346).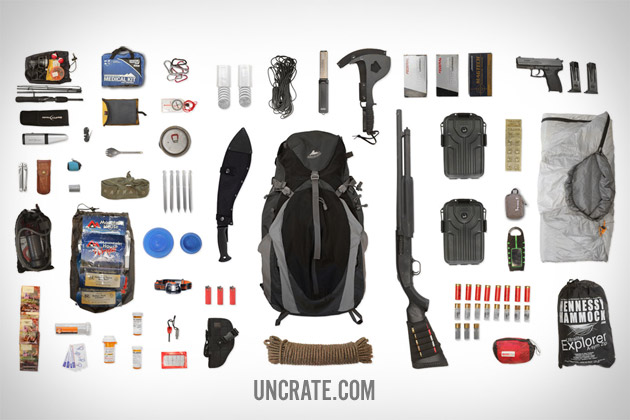 Everything that you need to survive and thrive in the Apocalypse, all stuffed conveniently into one pack.
Okuma Voyager Spinning Travel Kit ($40). Ontario SP16 SPAX Firefighter Axe ($60). Steripen Adventurer Opti UV Water Purifier with Solar Charging Case ($120). Leatherman New Wave Multi-Tool ($60). MSR MiniWorks Microfilter ($90). Survival Seed Vault ($38). Adventure Medical Fundamentals Kit ($110). MSR Packtowl UltraLite ($10 - $30). Snow Peak Titanium Spork ($9). Paisley Cotton Bandanas ($6). Mountain House 72-Hour Emergency Meal Kit ($49). McNett Gear Aid Tenacious Tape ($1 - $15). PROKNOT Outdoor Knots ($5). DMM ALPHA Quickdraw ($28). Suunto Global Compass ($63). MSR Titan Pot ($112). Sierra Designs Tent Stakes ($10). Guyot Designs Bowl and Cup Set ($13 - $20). Petzl Tikka Headlamp ($53). Swedish Firesteel Scout Model ($6 - $20). COGHLANS Emergency Tinder Kit ($5). American Silver Eagle Coin in Air-Tite Capsule ($39). Cold Kukri Machete ($30). BIC Disposable Classic Lighter ($7). UTG Elite Tactical Leg Holster ($11). Smith Abrasives Diamond Combination Thumb Guard Micro Tool ($29). Type III Paracord ($12). Gregory Mountain Products Tarne Backpack ($140). Mammut Supernova Climbing Rope ($150). iOSAT Potassium Iodide Tablets ($8). Gregory Accessories Raincover ($30). Etón SCORPION Solar Powered Weather Radio ($50). Mossberg 500 Pump-Action Shotgun ($500). Hennessy Explorer Deluxe A-Symmetrical Hammock ($177). MTM Survivor Dry Box ($15). Mountain Hardwear Phantom Sleeping Bag ($290 - $365). Sea to Summit Reactor Extreme Thermolite Liner ($59). HK P2000 Pistol ($941). Hydrocodone ($TBD). Ciprofloxacin ($TBD). Atovaquone ($TBD). Shotgun Shells ($TBD). 9mm Bullets ($TBD).