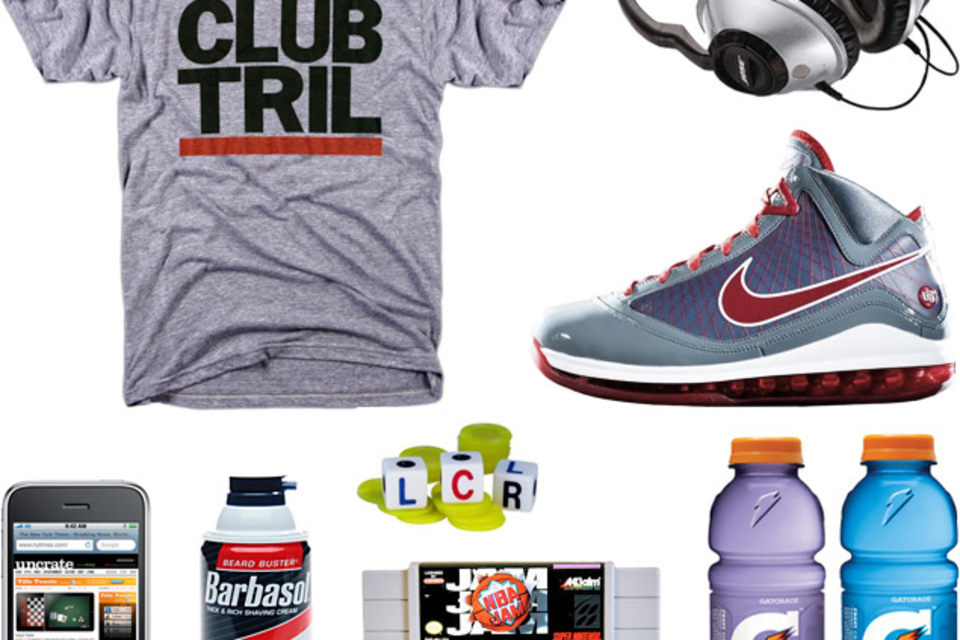 With the tourney coming to an end this weekend, we asked Ohio State University pine-riding powerhouse Mark "The Shark" Titus to disclose the essential gear he took with him on the road this year. And while his 5th-ranked OSU fell in the Sweet Sixteen, his awesome blog and his awesome skills make this roundup just as awesome. Can a benchwarmer really be awesome? Judge for yourself. Awesome.
If you're wondering what the whole trillion thing is about, you're probably not alone. The most famous NCAA player you've never heard of, this walk-on wonder dedicates his seasons to getting "the trillion," a box score made up of 1 minute of playing time, followed by a bunch of zeroes (because he didn't do anything else the few seconds at the end of a game when he'd get to play in). No assists. No points. No rebounds. Nothing. The trillion.


Club Tril T-Shirt ($24) "As the founder and leader of the largest club of benchwarmers in America, I take my shirt everywhere so I can recruit new members to the club."
Bose Around-Ear Headphones ($140) "These high quality headphones are essential for bus rides with my teammates, when I rely on George Strait to drown out their terrible rap music."
Customized Ohio State Nike Air Max LeBron VII's ($TBD) "I don't really have any commentary on these shoes. I just wanted to brag that I have two pairs of them and they aren't available to the general public. It's just one of the many perks of playing college basketball."
NBA Jam & SNES ($8-$50) "I take my SNES with me on road, and NBA Jam is the game of choice because we're obviously all basketball players. I mean, who doesn't like a game that has guys jump from the free throw line, do three flips, and shatter the backboard with a thunderous dunk?"
Barbasol Shaving Cream ($3) "If you're going to take your mustache as seriously as I do, you had better pack the best shaving cream on the market for all road trips."
iPhone ($100-$300) "Most hotels charge outrageous prices for Wi-fi, so an iPhone comes in handy when I want to check out Uncrate but don't want to spend $13.99 for one day of internet access."
Gatorade ($15/24-pack) "Each guy on our team usually packs 5 to 10 bottles for each road trip. Some guys pack them so they stay hydrated throughout the few days we're on the road. I just pack 'em so I have something to drink with the delivery pizza. It's amazing how even though we're staying in very nice hotels, the tap water is still disgusting."
Dice ($7) "When NBA Jam gets old, our team turns to a much simpler form of entertainment. Since gambling is illegal, we roll dice for chips instead of money. The most any of us ever won was 115 chips, and the most any of us ever lost was 85 chips. When you have that kind of mon...er...chips on the line, the games can get pretty intense."