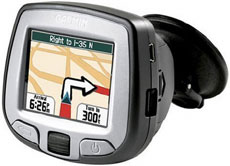 Now that new car fever has finally subsided around Uncrate HQ, we're left with a small problem: none of our new cars came with navigation systems. For our navigation needs, we're leaning towards the Garmin StreetPilot i5 GPS System ($340). It comes pre-loaded with maps for the United States, Canada, and Puerto Rico, and nearly six million points
of interest. Navigation of the menus is
handled with a slick scroll wheel, and it
can run off two AAs or the 12-volt power in
your car. Oh, and did we mention it's about
the size of a tennis ball?