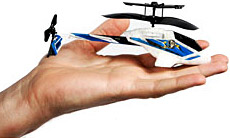 We've had our hands on this little jewel for a few days now, and we can sum up the experience in one word: fun. The Picco Z Mini Helicopter ($40) is the world's smallest R/C helicopter, featuring a do-it-all remote that has controls for up/down and left/right movements, and also serves as a portable charger for the Picco Z.
Despite it's light weight, it's remarkably
durable — trust us on that one. Fun to use
and inexpensive — two things we'd like to
say about any purchase.