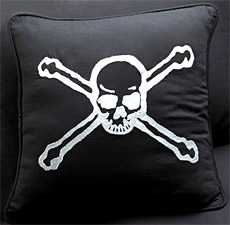 If you're sick of only finding bedding and home accessories that look like they belong at your grandma's house, then you'll be glad to hear about Sin In Linen. They offer some amazing stuff for your bedroom that only a true man could love. We never thought we'd ever be able to call a throw pillow hardcore, but this one is hardcore ($32). Now when potential advertisers stop by Uncrate HQ, they know we're bad-asses and not to try to bargain with such ruthless, pirate-like men. Be sure to also checkout their retro pinup sheet sets and tattoo-inspired duvet cover.
Truly unique bedding for a manly man
sick of flower-printed comforters.