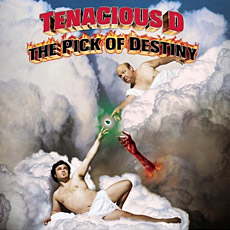 If you haven't heard, Jack Black and Kyle Gass have a new Tenacious D movie coming out in which they set out to become the world's greatest band. While they might not have succeeded here in the real world, the Tenacious D: The Pick of Destiny soundtrack is full of cleverly hilarious songs that prove everything in your collection doesn't have to be taken seriously. With track names like "Master Exploder," "The Government Totally Sucks" and "Dude (I Totally Miss You)," how can you go wrong? Plus it comes
with a rockin' 3-D cover.


We've got an official movie poster signed by Tenacious D to give away to one lucky reader. We'll pick a winner at random from anybody who spreads the word about Uncrate to their friends and family. Rock on.