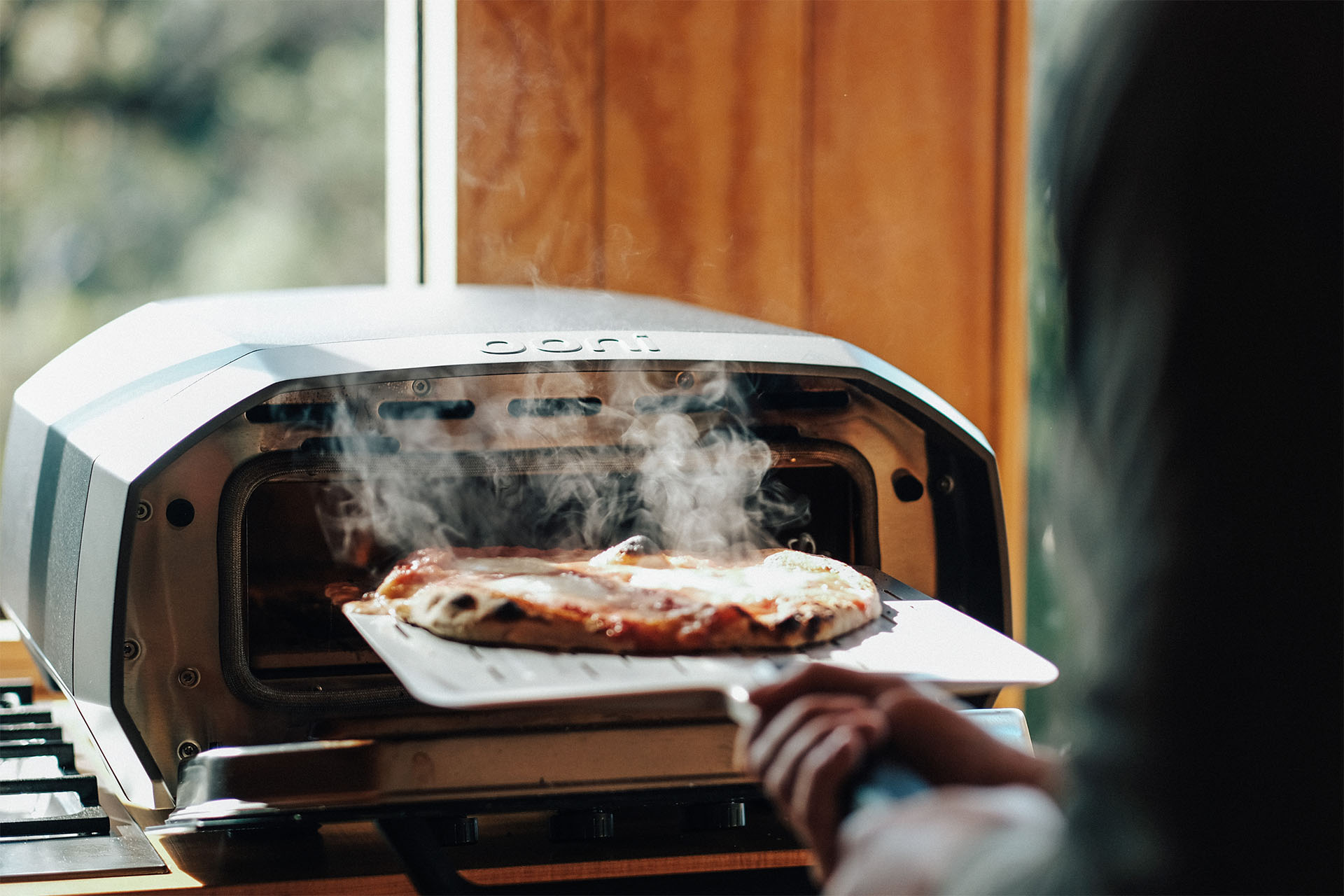 Cook up perfect summertime meals with Ooni's Volt electric pizza oven and these various accessories, ranging from peels and serving boards to speakers and corkscrews.
Listen: Marshall Middleton Speaker
The most powerful option in Marshall's portable lineup, the Middleton speaker offers sound that's much bigger than its size, housed in a design that channels the brand's iconic stage amps.
Uncork: L'Atelier du Vin's Le Black Corkscrew
Made in France, this professional-quality corkscrew is built using matte black Teflon for maximum durability and pulls double-duty as a bottle opener.
Cook: Ooni Volt 12 Electric Pizza Oven
Indoors or out, on a backyard patio or in an apartment, the Ooni Volt 12 Electric Pizza Oven can churn out gourmet Neapolitan-style pizzas in a flash. Its countertop-friendly design can hit 850 degrees in just 20 minutes, letting it cook 12-inch pies in as little as 90 seconds.
Serve: Ooni Bamboo Pizza Peel
A peel is necessary to get pizza in and out of a dedicated oven. Made from sustainable, moisture-resistant bamboo, this peel from Ooni is functional, yet stylish enough to double as a serving board when it's time to eat.
Serve: Ooni Perforated Pizza Peel
While it's not meant to double as a serving tray, the lightweight hard anodized build of this peel helps pizzas slide on and off with ease, making it ideal for bigger gatherings and back-to-back usage.
Prep: Blackline Boards
Handmade from white oak at Blackcreek Mercantile & Trading Co.'s Kingston, New York studio, these cutting boards are ideal for prep work and can double as serving pieces.
Cut: Hinoki E1 Paring Knife
Forged by Master Bladesmiths in Japan from multiple layers of VG-10 steel, this Warikomi-style blade is paired with an ergonomic wood handle and is ideal for prepping ingredients.
Season: Graza "Drizzle" & "Sizzle" Extra Virgin Olive Oil
Not all olive oils are the same, so this two-bottle set includes a finishing oil made from olives that are picked early and a cooking oil made from mature, mid-season olives.
Mix: Morris Kitchen Citrus Agave Margarita Mix
Made using tart lime and organic agave nectar, this fruit-forward mixer can be used with more than just tequila, pairing well with mezcal, vodka, gin, and even seltzer.
Eat: Mercado Famous Salchichon Iberico Sausage
Made from Iberico pigs and aged for 40 days in La Alberca, Spain, this sausage is delicious enough to eat on its own and could make for an outstanding topping.
Eat: Mercado Famous Jamon 100% Iberico
Made from pure-bred Ibérico pigs that have been acorn-fed and roam free across Dehesa, this Spanish ham is ideal for light pre-pizza snacking.
Sip: Zumo Primitivo Rosé
Grown in the oldest organic vineyard in Nevada County, CA, this direct press rosé is surprisingly tropical and pairs wonderfully with wood-fired pies.
Spice: Firelli Extra Hot Sauce
Handcrafted in Parma, Italy from ingredients like Calabrian chilis, roasted red peppers, balsamic vinegar, sea salt, and porcini mushrooms, a little of this spicy sauce goes a long way.
Presented by Ooni.