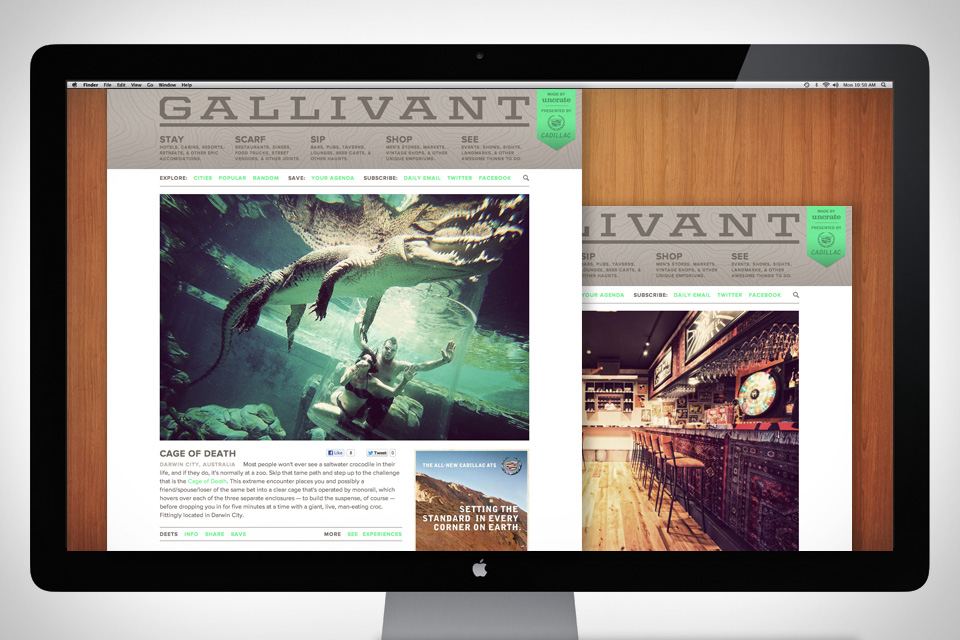 We're launching a new site today. Brought to you by the well-traveled guys behind Uncrate and Devour, and sponsored by the fine folks at Cadillac, Gallivant is a new publication for men who seek the best places to stay, shop, eat, drink, and be merry. Think of it as Uncrate, but for places instead of products. Not relegated to fancy-schmancy restaurants or upscale hotels, Gallivant curates the places real men want to frequent, introducing them to hidden gems and old standbys alike from across the world. For the man who has a thirst (and appetite) for cool accommodations, great food, hopping nightlife, superb shopping, and great entertainment, Gallivant picks up where Uncrate leaves off, covering everything you can't order online.
To make sure you don't miss anything, subscribe to the Gallivant daily email, or subscribe via Twitter or Facebook.
We want you. We're looking for guys in major cities to be our soldiers on the ground, visiting these places, eating the food, drinking the whiskey. You won't be paid, but we will pick up the bill. If you're a great writer, great photographer, and know a great place when you see it, get in touch and join the team.