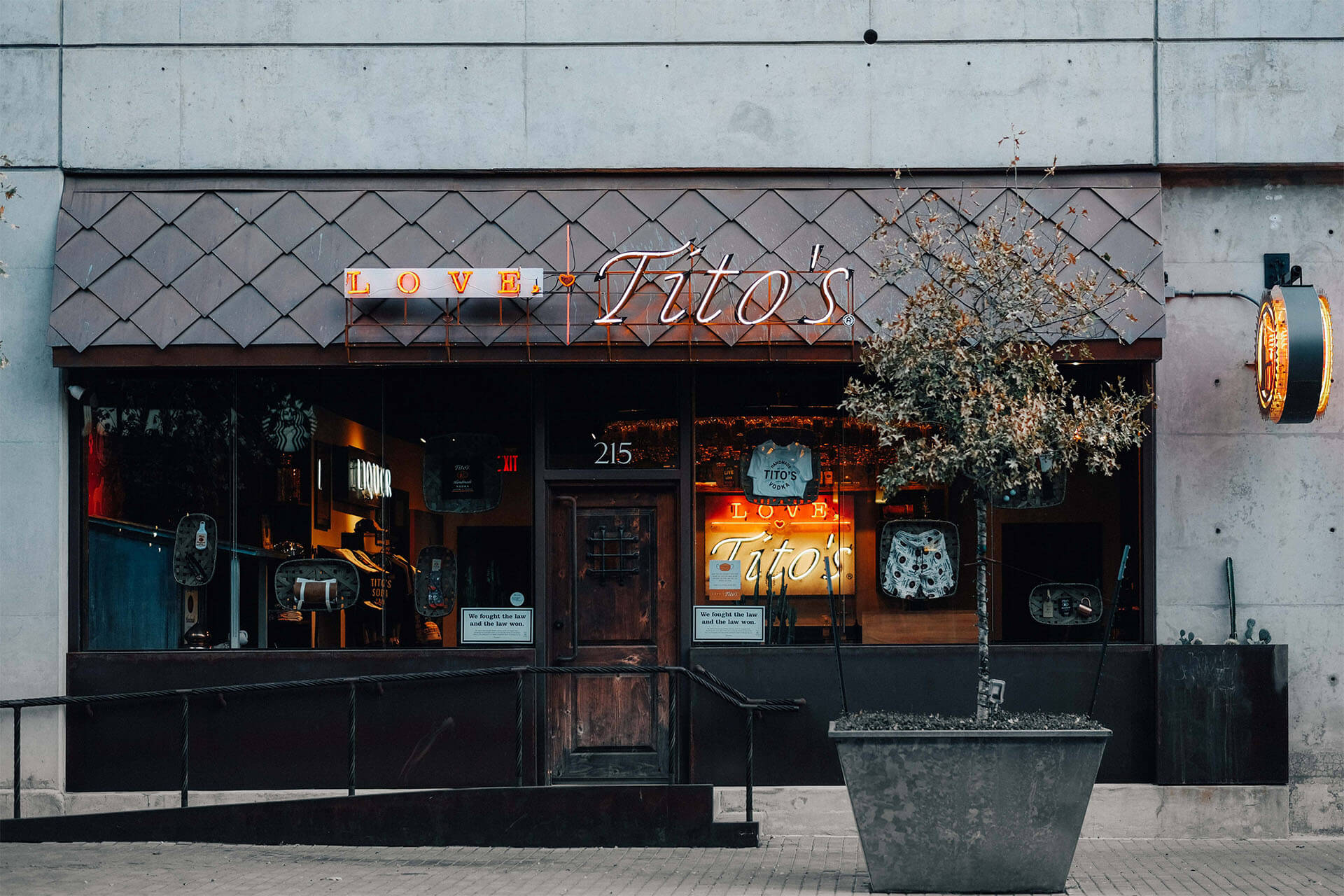 Stay weird, stylish, rested, full, cultured, and a little buzzed with this trip out and about in the Texas state capitol.
Stay: Hotel San Jose
Located in the South Congress district, this unique, modern courtyard hotel started life as a motor court in the 1930s, falling into disrepair before being remodeled. Apart from the clean, modern rooms, the San Jose offers designer mid-century furniture and locally-made bath products, free Wi-Fi, and a courtyard wine bar.
Sip: Kinda Tropical
Kinda Tex-Mex, kinda fruity, and totally Austin, this laidback hangout spot offers a full bar, espresso, and a menu filled with elevated bar takes on warm-weather classics, best enjoyed on the spacious patio.
Shop: Love, Tito's
Tito's Handmade Vodka has been distilling its award-winning vodka in Austin since the mid-'90s, but this shop just opened last year. It offers a host of Tito's-branded apparel and accessories, with all net proceeds going to one of the nonprofits they've teamed up with. While it can't serve the spirit itself due to Texas liquor laws, a custom iPad bar finder is on hand to point visitors in the direction of somewhere that can.
Recharge: Easy Tiger Bake Shop & Beer Garden
Bakeries and beer gardens rarely go hand-in-hand, but when realizing that Easy Tiger's dough punchers create outstanding Bavarian pretzels alongside other hearth breads, it makes far more sense. Offering coffee, curated meats, sandwiches, a full bar, and local beers, it's a worthwhile stop any time of day.
See: Barton Springs
The use of the natural springs that feed Barton Springs Pool dates back hundreds of years to the Tonkawa Native American tribe. Now a public facility on the grounds of Zilker Park, the pool naturally stays between 68º and 74 °F year-round, with a maximum depth of 18', and many grassy slopes good for pre- or post-swim relaxing.
Shop: Stag Provisions
Like a modern-day General Store, this South Congress shop sells a bit of everything. Inside, you'll find clothing from quality brands, apothecary goods, and accessories, as well as vintage furniture, artwork, books, albums, and other unique pieces.
Eat: La Barbecue
Founded and run by LeAnn Mueller — daughter of James Beard Award-winning pitmaster Bobby — and her wife Alison Clem, this barbecue joint offers slow-smoked, locally-sourced brisket, house-made spicy sausages, and other delicacies that honor both Mueller's father and her family's German heritage.
Sip: Deep Eddy Cabaret
Named for a swimming hole that used to exist just behind the bar on the Colorado River, this Austin staple has been welcoming guests since 1951 with its mix of friendly bartenders, affordable drinks, and classic dive bar charm.
Shop: Tecovas
Texans know a thing or two about cowboy boots. The best place to procure a pair in Austin is Tecovas. With an eye towards timeless designs that will stay in style, their boots are made by hand using a 200-plus-step process and are best tried on in person.
Eat: Favorite Pizza
It's named after the liquor store that used to occupy the diner-inspired space, but Favorite Pizza might soon be yours. Enjoy whole pies, slices, subs, cold beer, cocktails, and boozy slushies, with late-night service available via a walk-up window.
Shop: Tito's Stand Up Copper Cocktail Set
Making a proper cocktail requires the proper tools, most which can be found in this set from Tito's. Crafted from stainless steel and finished in the brand's signature copper hue, it includes a 500ml Tito's shaker, a jigger, tongs, a strainer, two pour spouts, a muddler, a mixing spoon/stirrer, and a corkscrew/bottle opener, all of which sit inside a handsome rounded Beechwood stand.
Stay: The Line
Originally opened in 1965 as the Crest Inn — complete with jazz recording studio — this riverside hotel has been thoroughly refreshed. Comfortable accommodations join the modernist mid-century building's four on-site eateries, including a rooftop bar that offers some of the city's best views of Congress Bridge's legendary bats.
Shop: Revival Motorcycle
Set on the ground floor of a hotel, Revival Cycles isn't where you'd expect to find the epicenter of Austin's custom motorcycle scene. Yet there it is, with some Revival-branded gear, a selection of curated riding gear, and, of course, bikes.
Eat: Nixta Taqueria
Nixtamalization is the process of partially cooking and soaking corn in lime powder, used by the Aztecs over 500 years ago to make tortillas and by Nixta Taqueria to create their outstanding food. Tacos, tostadas, Aquas Frescas, paletas, and natural wines are on the menu, with food rolling out in waves from the tiny kitchen.
Recharge: Flitch Coffee
A flitch is a slab of wood cut from a log, making it a perfect name for a coffee shop that shares a lot with a lumber company. Operating out of a remodeled 1952 Spartan trailer, this shop serves up both local and national brews, alongside food and snacks from local proprietors and restaurants.
Shop: Tito's Traveler's Pack
Perfect for a boozy picnic, Tito's Traveler's Pack is made from waxed cotton canvas with soft pebbled leatherette details. It includes an Acacia cutting board, cheese knife, and corkscrew/bottle opener, and has two insulated sleeves on the interior for its namesake spirit and a bottle of mixer.
Sip: Whisler's
The best bars offer ambiance and quality drinks, and Whisler's certainly has both. Set inside a century-old building, the decor is both quirky and rustic, with an intimate inside bar, a large outdoor patio, and a dedicated Mezcal bar upstairs.
Shop: South Congress Books
Good bookstores offer a curated selection of vintage titles. Great bookstores sell nothing else. In addition to the used books — with a decidedly art-focused slant — the shop offers vintage music posters alongside artwork and vinyl.
Presented by Tito's Handmade Vodka.