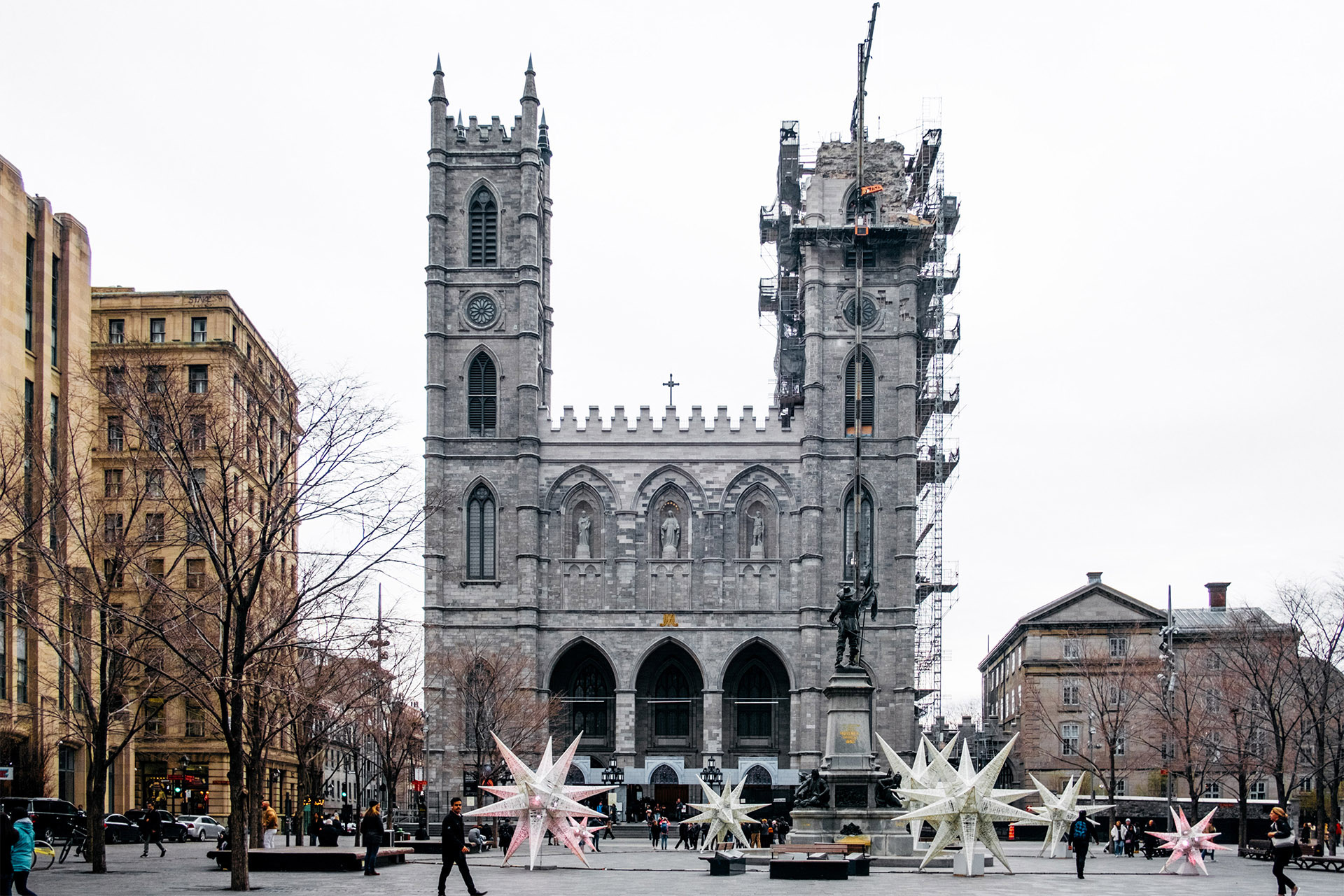 Named for an Algonquin word yet proudly French-speaking. Filled with centuries-old buildings yet an arbiter of modern culture. Join us for an extremely tasty trip around this city of contradictions.
See: Notre-Dame Basilica of Montréal
Religious affiliation is not required to appreciate the Notre-Dame Basilica. Completed in 1829, the architectural marvel is a Gothic Revival masterpiece and features dramatic gold and blue vaults, ornate wooden carvings, a bronze altar, and intricate stained glass windows depicting the religious history of Montreal. It also houses a 7,000-pipe Casavant Frères organ measuring as tall as 32 feet. Tour the ancient architecture on your own or see the chapel come alive during a four-act multimedia light show experience.
Buy: Bell & Ross BR-X5 Black Steel Watch
Inspired by heritage aeronautical instruments yet fully modern, Bell & Ross' BR-X5 Black Steel is an ideal timepiece for urban exploration. The multi-layer 41mm steel case transitions from casual to more formal environments with ease, while the BR CAL 323 manufacture movement keeps accurate time and the combination of a circular power reserve indicator and oversized date window give the chronometer's black sunray dial a personality all its own.
Shop: Ssense Store
Don't let the 19th-century Beaux Arts façade fool you. Inside, Ssense's Old Montreal 13,000 square-foot flagship store is a thoroughly modern David Chipperfield design, with a cafe, art space, and a personal shopping experience spread across five floors. Access is available by appointment only.
Coffee: Crew Collective Café
Housed in the former Royal Bank of Canada, this cafe and co-working space fuses espresso-based drinks with dramatic architectural components. The 1920s building provides a rich historical setting for sipping lattes and collaboration with its original marble mosaic floors, intricate coffered ceilings, and limestone and sandstone walls inlaid with the Canadian province's coat of arms.
Eat: St Viateur Bagels
Opened in 1957 by a Holocaust survivor, this Mile End landmark makes their signature Montreal-style bagels — sweeter and thinner than their NY counterparts — by hand-rolling them, simmering in honey water, and baking them on a long plank in a wood-burning oven, giving them their signature brown, crispy exterior.
See: Mount Royal Park
Between museum hopping and cafe runs, escape the urban environment at Mount Royal Park. The 500-acre greenspace is located on the city's namesake mountain and is a year-round recreational hub for outdoor enthusiasts. In the cooler months, the verdant sanctuary transforms into a winter playground, offering ice skating, snowshoeing, skiing, and tobogganing.
Eat: Dobe & Andy
Run by second-generation owners, brothers Eric and Edmund Ku, this Cantonese BBQ is renowned for traditional dishes like char siu pork and duck poutine, but don't overlook the delicious chili oil fried chicken with fries.
See: The Canadian Centre for Architecture
The Canadian Centre for Architecture has been a design mecca in Montreal since 1979. Located in the former Shaughnessy House mansion, the 130,000-square-foot museum features the largest collections of architectural drawings, books, and archival materials on the built environment, galleries, thought-provoking exhibits, and a sculpture garden.
Shop: Dime Montréal
Founded by a group of local skaters, Dime has grown past its skatepark roots and into a global fashion phenomenon. As its Dime-branded collections quickly sell out, this Saint-Laurent flagship also stocks items from quality brands to fill its handsome shelves in between drops.
Coffee: Micro Espresso
Fresh, locally-roasted coffee is what sets Micro Espresso apart. The Italian-inspired cafe roasts its beans weekly in small batches for quality lattes. If you like what you sip, its premium espresso blends are available to take home.
Eat: Schwartz's Deli
Founded by a Jewish immigrant in 1928, this landmark shop is widely known for its delicious smoked meats and sandwiches, as well as for the long lines that you'll frequently find outside — so planning to get there early is definitely recommended.
Eat: Dandy
Domed entrances and matching lighting help hide the industrial bones of this daytime eatery. Filled with leather-lined booths, it serves up delicious breakfast, brunch, and lunch.
Eat: Drogheria Fine
Located in the Mile End neighborhood, this spot isn't so much a restaurant as a stand/shop but is a must-visit either way. At the counter you can get their signature gnocchi with Calabrian-style tomato sauce (normal or spicy), topped with red pepper flakes or grated Pecorino Romano if you so choose... and that's it. Love the sauce? They also sell it by the jar.
Stay: Hotel Gault
Like many establishments in Old Montreal, the century-old facade of this building belies the updated, modern appointments within. Loft-style rooms, expanded suites, and terrace-laden mini-apartments are all on offer, as are an on-site spa and restaurant, the latter of which offers up lunch, dinner, and a killer brunch.
See: Pointe-à-Callière
Montreal was founded in 1642, but its history goes back millenniums. The Pointe-à-Callière explores the city's rich heritage starting with the First Peoples to the present day. The museum is situated on the very ground Montreal was founded upon 350 years prior and offers visitors a chance to the historic archaeological site, walk the First Sewer Collector, and visit the First Custom House.
Eat: Liverpool House
Positioned as a more laidback, less impossible-to-reserve alternative to its cousin Joe Beef next door, this Little Burgundy eatery is no less delicious, with a standout oyster bar and a market-inspired menu of generously-portioned comfort food.
Shop: Clark Street Mercantile
We have a strong preference for brands with history and those working to make products of the highest quality. So does the team at Clark Street Mercantile. This shop features clothing from both timeless brands and up-and-comers alike, as well as a range of accessories covering everything from grooming supplies to cocktail mixers.
Eat: Joe Beef
Named in honor of a 19th-century tavern owner, this Little Burgundy gastropub opened in 2005 with only 30 seats. It has since expanded to cater to demand for its food, which ranges from poutine to the legendary foie gras double down, an insane creation of bacon, cheese, mayonnaise, and maple syrup, all sandwiched between deep-fried foie. Reservations are hard to come by, so plan ahead if you want to visit.
Sip: Atwater Cocktail Club
A late-night hot spot, this moody hangout attracts masses with its craft cocktails and speakeasy vibes. Drinks range from classics to innovative creations and are served across an emerald marble bar. Guests can sip cocktails from the hot pink bar stools or sink into a metallic gold booth and nibble on black truffle spaghetti.
Shop: Maison Cloakroom
Looking and feeling great requires more than just the right clothes — your overall grooming state makes a difference too. Located in the Golden Square Mile, this triple-threat shop offers expert tailoring services along with a barbershop, so you can leave looking your absolute best, even if you're not going any farther than the Cloakroom bar next door.
Sip: The Cloakroom
Hidden inside the Maison Cloakroom, this intimate lounge specializes in bespoke bartending. The 25-seat establishment crafts everything from its tinctures to its ice in-house and tweaks its made-to-order cocktails to suit the taste of each individual.
Eat: Elena
Founded by two owners of essential Italian restaurant Nora Gray, this multi-faceted Saint-Henri spot serves up delicious pizzas cooked in a wood-fired oven and homemade pasta made with ingredients from local farms and natural techniques. Equally as impressive is the list of natural wines, which can be enjoyed in the sophisticated dining room or outside on the backyard terrace. A basement coffee shop rounds out the space, while the online boutique serves up various foodstuffs, cookbooks, and a killer collaboration coach's jacket from JJJJound.
Presented by Bell & Ross.