A day in the Dutch capital
Presented by Aether.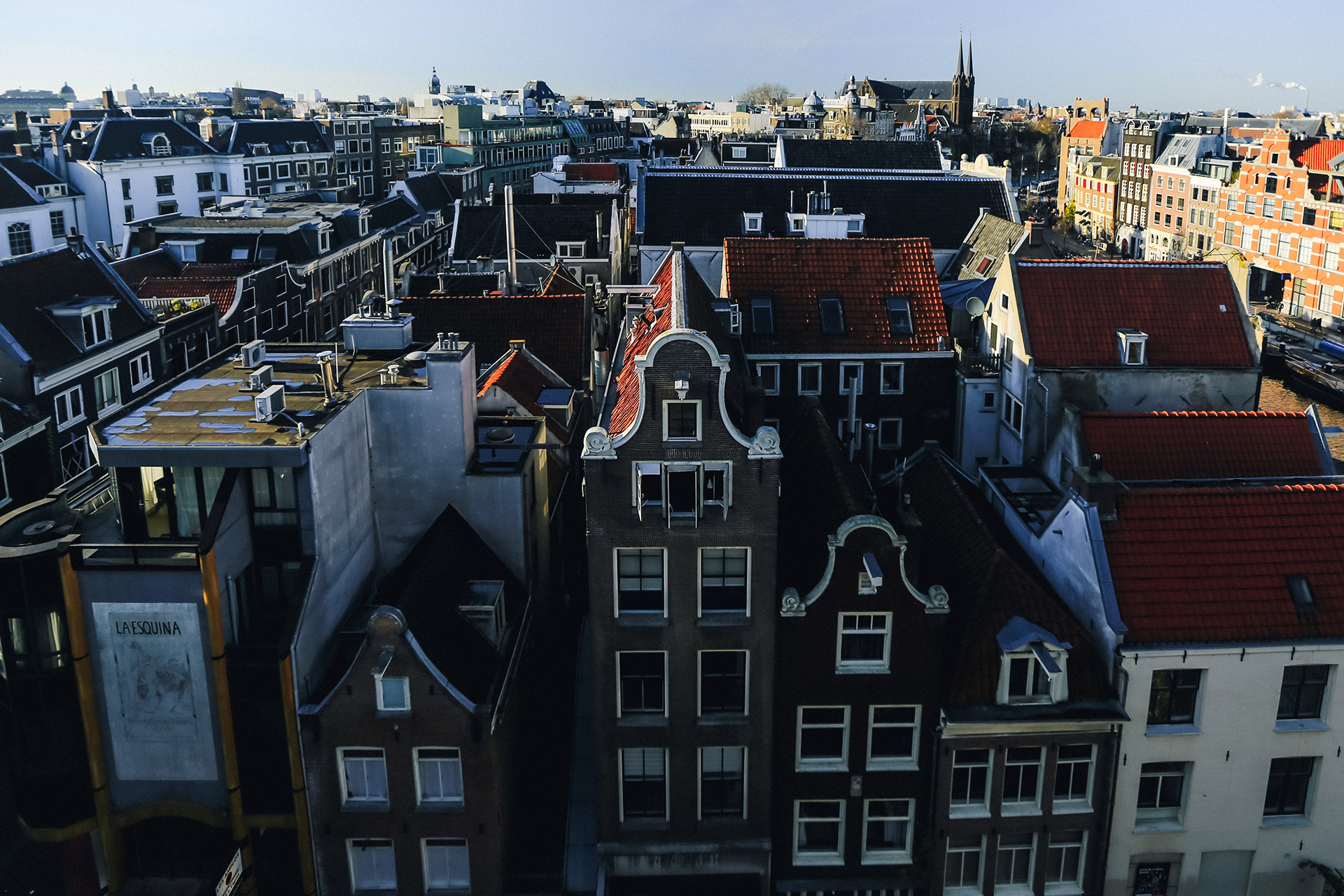 Stay: Hotel Pulitzer
Located in the Nine Streets neighborhood, this unique accommodation stands out in a city full of them. Instead of a traditional hotel layout, it's actually a connected, renovated series of 25 canal houses, giving it tons of character, as well as room for hidden inner gardens, a cafe, a bar and restaurant, and meeting and event spaces to go along with its well-appointed rooms and suites.
See: Rijksmuseum
Founded in The Hague in 1800 and moved to Amsterdam in 1808, the current building that houses this famous museum first opened in 1885. Over 130 years later it underwent a ten year renovation before reopening in 2013. Over 8,000 items are on display at this historic museum, the most famous of which is Rembrandt's The Night Watch, his largest and most celebrated piece that remains the heart of this must see attraction.
Wear: Aether Ion Jacket
Perfect for the city's cool but not-quite-cold winters, this take on the classic bomber jacket is an ideal way to keep warm as you transition from fall to winter. The 800-fill power goose down keeps you warm while the nylon exterior keeps wind at bay. There's an interior pocket for your phone, zippered pockets up front to keep your hands warm, and ribbed knit at the collar, cuffs, and hem for added comfort.
Toke: Amnesia
Yes, it's a coffee shop. But in this city, that means more than perfectly poured espressos. This particular shop is known for its excellent selection of fine cannabis and friendly, knowledgeable staff. Stop in, chill out, and then enjoy a stroll down the picturesque Prinsengracht canal.
Shop: Red Wing
It might seem odd to travel this far to shop for an American brand, but the aesthetic and selection at Red Wing Amsterdam make it worth the trip. Located in the De Negen Straatjes shopping area, you'll find a selection unrivaled by any Red Wing stores stateside and a rustic vibe that fits perfectly with the products. Shoes are the star here, but they also offer a selection of shoe care products and accessories from other respected brands.
Shop: Tenue de Nîmes
You'll find familiar brands from across the globe at this well stocked menswear shop. But the primary focus is on denim. Opened in 2008, it's a great place to scour the racks for vintage denim from the 60's and 70's or get the perfect fit from a new pair with help from the knowledgeable staff.
Eat: Lotti's
Located on the ground floor of the Hoxton Amsterdam on the Herengracht canal, Lotti's features Italian dishes with Dutch influences. The main seating area has a retractable glass roof that opens when the sun comes out — optimally paired with dinner or their brunch buffet and a Bloody Mary.
See: Van Gogh Museum
Opened in 1973, this museum is the largest collection of Van Gogh paintings, drawings, and letters in the world. Located within the city center of Amsterdam, the modern main building saw a elliptical exhibition wing added in 1999 that help make the building nearly as beautiful as the Van Gogh art. Host to over 1.6 million visitors each year.
Recharge: CT Coffee & Coconuts
Housed in a former cinema, this shop serves up excellent coffee in a cavernous space. In addition to the caffeinated drinks, it serves up a number of fresh juices — including coconuts — as well as beer, wine, and a selection of food ranging from breakfast to late-night snacks.

Photos: Pie Aerts / Uncrate