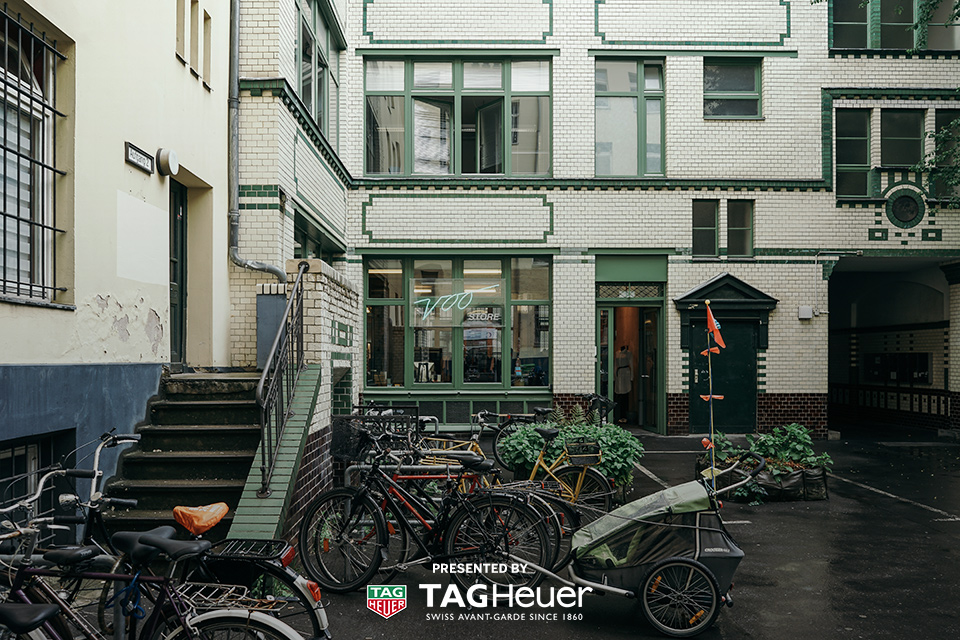 Exploring Germany's capital in 24 hours.
Stay: Das Stue Hotel
Housed in the former Danish embassy, Das Stue Hotel is, like the building itself, a mix of modern appointments and old-world charm. 78 rooms take advantage of the new, modern addition, with bespoke furnishings and designs by Barcelona-based LVG Arquitectura. The hotel is also home to an impressive assortment of art, as well as a Michelin-starred restaurant, a more casual eatery, and a bar.
Shop: VooStore
Housed in a former Kreuzberg locksmith shop, VooStore combines a clothing store and community meeting place. Their selection of clothing ranges from streetwear to serious, covering brands both established and new. They also offer a number of well-designed gifts, and a selection of magazines and literary works, ideal for perusing as you sip a drink from the in-store coffee shop.
Recharge: The Barn
The graffiti-covered exterior belies the rustic charm you'll find inside The Barn. Considered by many to be Berlin's premiere coffee shop, they roast their carefully-sourced beans on-site, creating both espresso drinks and excellent coffee one of four ways — via AeroPress, Woodneck, V60, or Syphon — as long as you like it how they do: black.
Wear: TAG Heuer Carrera Calibre 1887 Watch
Some watches just look sporty. The Tag Heuer Carrera Calibre 1887 Watch really is sporty. By moving the traditional twelve hour markings to a subdial and replacing them with timing-specific 60-second indices, it makes clear that it's all about performance. We put it through its paces on a trip to Berlin, and came to appreciate features like the sturdy 43mm steel case, highly legible black ceramic bezel, large numbers, date window, water resistance, and precise automatic Calibre 1887 movement. Ours was finished with a black alligator strap, but it's also available with a matching stainless steel bracelet.
See: Bode Museum
Renamed for its eclectic original curator in 1956, the Bode Museum is true to its namesake spirit, mixing a number of collections throughout the century-old building, set on the banks of the Spree at the tip of Museum Island. It's home to the largest array of European sculptures on display anywhere, one of the world's largest collections of coins, and a selection of Byzantine art, all presented according to geography and time period.
Sip: Absinth Depot
Absinthe is an acquired taste. The Absinth Depot is an ideal place to acquire it. Stocking a world-class array of absinthes from around the world, it's a shrine to the anise-flavored spirit that's not to be missed — nor is the decor, which feels like it hasn't changed in a century or so.
Eat: Restaurant Sauerkraut
You're in Germany. You want German food. But you also want some familiarity. Restaurant Sauerkraut serves up both. The menu focuses primarily on sausages (as the name implies), but also features a number of burgers, both traditional and otherwise. Look around, and you'll see the same unique mix in the decor, which includes wood panels with carving graffiti, books, antique lamps, and paintings that mashup traditional German folklore with modern pop culture.
Shop: Soto
Founded at the start of the decade by three fashion vets, Soto — short for South of Torstrasse — is an impeccably curated collection of men's goods. The brands come from all over the world, with modern items finding their place next to heirloom-quality staples, casual items next to formalwear, all in a pleasingly minimal space.
Presented by TAG Heuer.
Photos: Marco Gaggio / Uncrate